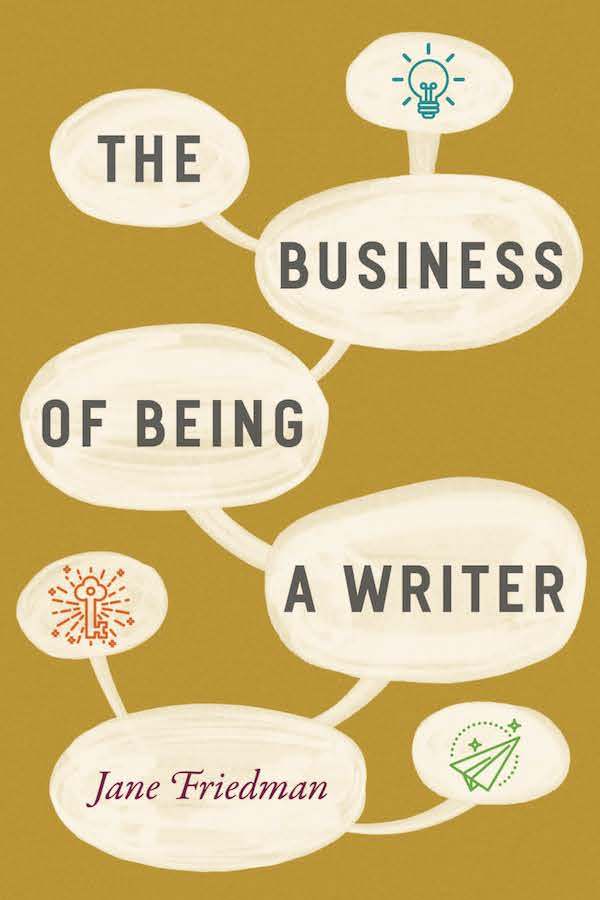 I think Jane Friedman is awesome, not only because she's an expert on what it takes to build a successful writing career, but she's also a high-functioning Type 3 Enneagram and believes in kindness and building communities. Her book, The Business of Being a Writer, has pragmatic, no-nonsense but also compassionate advice for writers of all levels, and we highly, highly recommend that you read it.
I reached out to her to get her thoughts on the challenges that face writers, and she graciously shared some fantastic words of wisdom.
1) You have written one of the most clear-eyed and practical books on the importance of treating writing as a business. What was the inspiration behind writing this book?
There's an annual conference hosted by AWP (Association of Writers & Writing Programs) that attracts about 10,000 writers from across the country. It's mainly attended by creative writing students and teachers, but it includes a diverse mix of people in the literary publishing community.
I've been attending this event for ages, going back to 1997 when it was a tiny conference in a hotel. Today it is a sprawling convention center monstrosity, something that instills status anxiety in the average writer, and also confusion. AWP is composed primarily of panels that deliver conflicting opinions about how the business works—and that's if there is any discussion at all about the business. Art always comes first at AWP, and I find that problematic.
Every year, listening to one panel or another, I'd hear an MFA graduate say something to the effect of, "If only I'd known that going $60,000 into debt for this degree was a mistake!" While it's no secret that writing degrees aren't lucrative endeavors, I saw an obvious missing component to a writer's education: Once you graduate, how in the world do you make writing pay?
That pretty much sums up why I wrote this book.
2) In your book, you discuss this illusion of writing as a purely artistic work that writers continue to hold dear. I find that many struggling writers I know refuse to acknowledge the business side of writing. Do you have any suggestions on how we can help them rethink writing?
One of the problems is that we mythologize the artistic and creative process, and tell stories about successful writers that often emphasize the romantic and Romantic aspects. We rarely tell the stories about authors' business prowess or financial motivations.
For example, Louisa May Alcott started writing to support her family and thus wrote what would sell. She wrote Little Women because a publisher saw a market opportunity for an adventure tale for girls. Initially, Alcott thought it was a stupid idea, but did it anyway—and reaped the rewards.
During Mark Twain's time, it was considered crass to sell books door to door, but his most successful book was sold in that manner, rather than "properly," in a bookstore. (Consider the analogous situation today to authors who feel they need to have their book stocked in "real" bookstores and not just at Amazon.)
Art often turns out better when you don't have absolute freedom, when you have constraints. Business can be a constraint that pushes you to be more creative. Being a purist on either side is where the danger lies: being too consumed by pure business concerns or too consumed by pure artistic concerns. It can get toxic; an interplay is desirable or else you get dull and insufferable.
3) Which of the best practices that you outline in your book do you think all writers should begin with?
As the book explains, one of the fundamental components of a business model is creating demand for your writing work. Creating demand isn't easy when you're an emerging or unpublished writer; if you've ever felt invisible to editors and agents, and frustrated by their lack of response, then you know what I'm talking about.
Lead generation helps alleviate this problem, but it's not a concept writers are likely to know or be taught. It comes from the sales and marketing industry: a "lead" is a prospect for your business. Specifically for writers, a "lead" may be someone in a position to buy your work (an editor or publisher), share your work with the right people, or otherwise hook you up with an opportunity that becomes a paycheck. "Lead generation" is when you participate in an activity that generates more leads for paying work or clients.
Two of the most common forms of lead generation for writers today include posting on social media (a super-star example would be Rupi Kaur on Instagram) and writing for free—commonly known as writing for "exposure." Writing for exposure has a bad reputation across all creative professions; in the writing community in particular, it's seen as exploitative and devaluing of the cultural work that writers do. But writing for exposure is the most natural activity in the world when you're seeking to generate leads for your business. Just as writing for free is not intrinsically bad, writing for exposure is not intrinsically bad. Everything depends on the context.
Successful lead generation requires writing and sharing things emblematic of you and your work that have the potential to reach a large or influential audience. Bottom line, it's smart for writers to make some amount of content available for free as part of a continuing lead generation strategy, whether through their own platform, social media, or the right publications. As you become more established, such activities may lessen or decrease in importance—because you've established demand for your writing.
4) We often see writers who go through the entire process of finding an agent and publisher, only to panic a month or two before their book is coming out because they don't know how to help promote it. What do you recommend that writers in this position do in terms of damage control?
Successful marketing and promotion is almost always a community effort; you need other people to help spread the word. So if you're just a couple months away from release, you need to start putting together some contact lists and start outreach.
The first list should be people you know who actually respond to your emails, pick up your phone calls, or answer text messages. This includes family, friends, even exes you're friendly with. Approach them one by one (this can't be done in a batch-and-blast manner) and make a specific request that befits their influence, role, or strengths. Maybe you want them to mention your book on their Instagram account, or write an Amazon customer review when the book launches. Or help you secure an event at their hometown bookstore, because they know the bookseller there. Whatever it is, make a single and specific request that you think would help your book.
The second list should be people who hold some influence and/or reach to your intended readership. These could be other authors in your genre, people in the industry, podcast hosts, book bloggers, etc. You may not be confident about whether they'd respond to you, but usually such people are accustomed to being approached if they regularly publicize books or authors. So put together your best pitch and ask again for something specific. Do you want to be a guest at their blog? Do you want to send them a free copy in the hopes they'll read and review? Etc.
I've avoided mentioning anything here related to social media, websites, blogging, etc., because every author's foundation here will be different—and readerships are different, too. But one thing that all author have in common is a network of people who will want to know about the book's release and may be in a position to spread the word. Even if your network isn't that big, don't worry. It can and will make a difference, but it takes you being proactive and reaching out.
Check out Jane's Website for information on her services and books!
About Jane:
Jane Friedman has 20 years of experience in the publishing industry, with expertise in business strategy for authors and publishers. She's the co-founder of The Hot Sheet, the essential industry newsletter for authors, and has previously worked for F+W Media and the Virginia Quarterly Review.
Jane's newest book is The Business of Being a Writer (University of Chicago Press); Publishers Weekly said that it is "destined to become a staple reference book for writers and those interested in publishing careers." Also, in collaboration with The Authors Guild, she wrote The Authors Guild Guide to E-Publishing.
In addition to being a columnist with Publishers Weekly and a professor with The Great Courses, Jane maintains an award-winning blog for writers at JaneFriedman.com; her expertise has been featured by The New York Times, The Washington Post, NPR, PBS, CBS, the National Press Club and many other outlets.
Jane has delivered keynotes and workshops on the digital era of authorship at worldwide industry events, including the Writer's Digest annual conference, San Miguel Writers Conference, The Muse & The Marketplace, Frankfurt Book Fair, BookExpo America, LitFlow Berlin, and Digital Book World. She's also served on grant panels for the National Endowment for the Arts and the Creative Work Fund, and has held positions as a professor of writing, media, and publishing at the University of Cincinnati and University of Virginia.
In her spare time, Jane writes creative nonfiction, which has been included in the anthologies Every Father's Daughter and Drinking Diaries. If you look hard enough, you can also find her embarrassing college poetry.
In 2o17, Jane was honored with the Virginia Writers Club Lifetime Achievement Award.