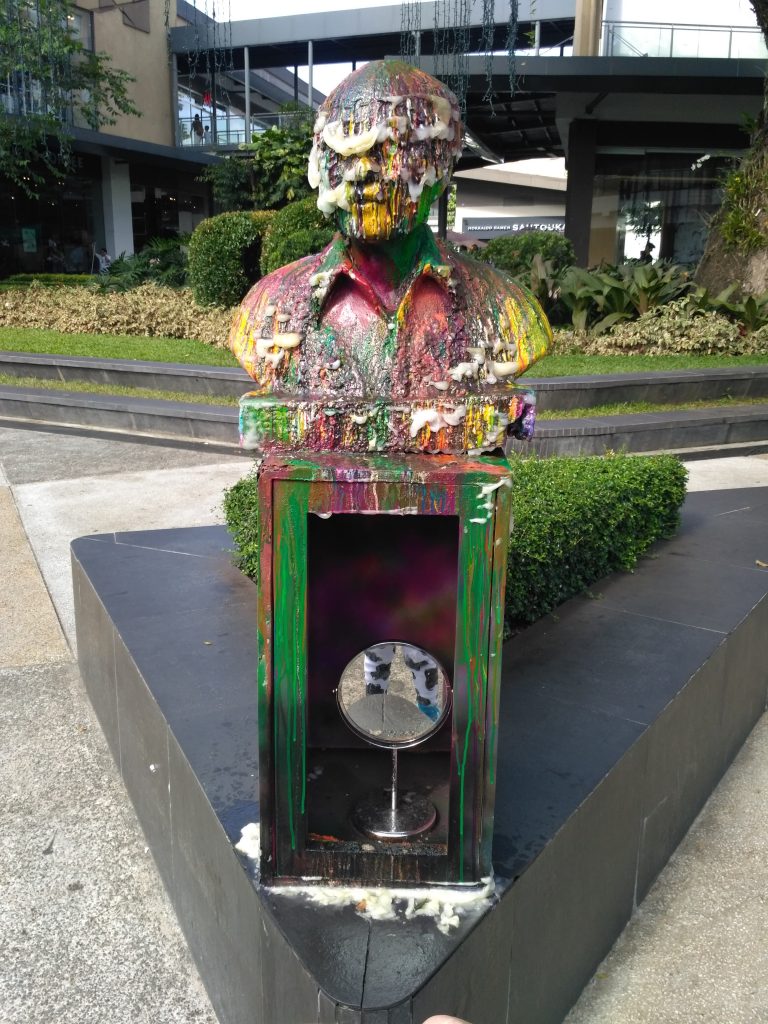 Here I am, back in Manila, Philippines after not living here for over twenty years. I moved back for a few reasons, mostly family-related, and my plan is to split my time between here and either Taipei or Hong Kong.
Like most Third World countries mired in the cycle of corruption and pointless elections, Manila hasn't really changed since I left. I've been spending most of my time as a hermit, only leaving the house when I take my kid out to run errands or to go play somewhere. I don't really mind since I'm a weird loner by nature.
One of the places my kid likes to visit is the UP Town Center mall, and I took this picture there last month. My kid was the one who discovered the statue (those are his cow-patterned leggings in the mirror). It made me think of that Nick Joaquin story "May Day Eve", where young people are told to take a candle to a mirror and say a spell to see their future spouses–or, if things go wrong, either a devil or a witch.
I'm not sure if that's what this statue's purpose is, but I wouldn't be surprised at all. As to whether it works or not, I really hesitate to say. I've always fallen on the skeptic side of things, I'm usually more about "I want to know" rather than "I want to believe," but I've witnessed and personally experienced too much weird shit that doesn't have any reasonable explanation unless you apply some quantum physics parallel dimension or Elon Musk-style simulation theory. So I guess my motto is an ass-covering "You never know."
Before we moved into the house we're renting now, my mom had an old psychic friend, Old Uncle Ong, come by to check the place out. The term "psychic" is kind of misleading because he doesn't read minds. It's more like he has a kind of second sight or sixth sense, and he can see spirits and things like that.
The house faces a church, which in traditional feng shui is considered pretty bad luck. But Old Uncle Ong said that the land the church was built on canceled out the bad luck from Christianity because it's full of nature spirits. The church is in a small park with many very old mango and mahogany trees, and as with all Asian pagan beliefs, there is a traditional Filipino belief that old trees harbour spirits. Old Uncle Ong said that the big mahogany tree that was directly opposite our door had a powerful one living in it, and that it would protect us.
The first time I took my kid to the park to look around after we moved, the caretaker advised us to always greet the trees whenever we showed up. He said that the reason the church had been built on that particular plot of land was because the area had already been a place of pagan worship, and the Church figured they could kill two birds with one stone.
Do I greet the trees whenever we go to the park? You bet your ass I do. YOU NEVER KNOW. I haven't offended any tree spirits yet (that I know of) and I don't have any plans to do so for the rest of my life. I've seen the consequences for myself.
When I was a little kid, we lived in an area that was also full of very old trees, most of whom were left alone. There was a house at the end of our street, at a dead-end position. This is pretty bad feng shui already but it was compounded by a gigantic balete tree, a type of ficus that is notorious for being especially prone to harbouring malevolent spirits, growing at the front of the house. Because of these two features, the house was empty for most of my childhood, but one day, a Taiwanese woman (I'll call her my Auntie Susan) and her kids moved in.
Since my mom is also Taiwanese, she made friends with Auntie Susan pretty quickly and gave us the lowdown: back in Taiwan, Auntie Susan had married a Chinese-Filipino man who was always having to conduct business back home for weeks and sometimes months at a time. Auntie Susan's suspicions grew serious enough that she flew to Manila to see what was going on, and it was then that she discovered that her husband had married her bigamously. He was already married and even had grown kids.
Auntie Susan flipped out and threatened to tell the real wife what was going on, so to keep her quiet, her "husband" bought her the dead-end house and gave her and their kids a chunk of money and monthly support. Auntie Susan, who was a trained aesthetician, settled in and started giving facials at her house. She was really good, and so a lot of people started visiting her even though she was technically just a mistress.
It was around this time that the balete tree began to annoy Auntie Susan because it was blocking the light into the house, and she thought it made it look too gloomy for her clients. So one day, she just decided to have it cut down and she got two of the subdivision's handymen to do it.
And dudes, starting the next day, once the sun set, Auntie Susan would go mad. She would shriek and shriek and attack the people around her–her teenaged kids, her helpers, her friends–and even herself. She scratched her face, her arms, and once, she tried to stab herself in the eyes with a pair of scissors. It got so bad that they would have to tie her up before sunset and leave her in the chair all night until dawn, when the madness passed.
This went on for three months while Auntie Susan consulted doctor after doctor and psychiatrist after psychiatrist. She got prescribed sleeping pills and sedatives, but the madness still came every sunset. We lived three houses away and we could hear her screaming at night. Eventually, Auntie Susan's kids took her to live in a monastery in Taiwan for a few months, where she calmed down and managed to return to normal.
But as soon as she went back to her house, the madness came back. Finally, someone managed to find a local witch, who told my Auntie Susan to sacrifice two black roosters and pour their blood all over the stump of the balete tree. Auntie Susan did it, and from that day on, the madness disappeared. The two handymen who'd cut the tree down for her became very ill and died within the week.
And so this fucked up version of a fairy tale is why I always greet trees, and you should, too.
YOU NEVER KNOW.